Things To Consider Before You Outsource SEO
---
The year 2020 wasn't the best year for businesses; while some small businesses stayed ground, others barely managed. Through this all, digital marketers comparatively managed to sail through; without having to shut their doors. If analyzed carefully you might wonder how it was possible. You see the internet is a huge place with many opportunities, and we as a user might not know all of it.
As we enter a more technologically advanced world, we want things to be within our reach within seconds. Businesses have to work very hard to push their content through in the competitive environment.
If you have ever wondered how some blogs or sites always top your search, then you have come just to the right place, as this article will discuss thoroughly. One of the major marketing strategies that have taken the digital market by storm is SEO or Search Engine Optimization.
So what exactly is SEO, and how is it helpful?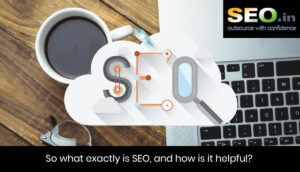 SEO is another brainchild of technology that helps businesses drive online traffic to their products by increasing their quantity and quality of their websites via organic search engine results.
We live in a world that is so technologically driven; it is nearly impossible to remove technology from everything in the next five years. With internet users increasing daily and now nearly ⅔ of the global population having access to smartphones and the internet, it is only natural to find the internet a lucrative marketing platform. And here, SEO India plays an important and helpful role, especially when we consider stats that say that 40% of annual revenue is brought in through online organic traffic. Major brands have incorporated SEO strategies in their respective marketing plans, and the results are quite visible.
One of the main reasons SEO stood out particularly in 2020 was that it has long been one of the best marketing investments a company can make.
SEO can help protect your foundation from faltering during hard and bad times; SEO aids a company in establishing a solid framework based on trustworthiness while also providing a long-term return on investment.
What is SEO Outsourcing?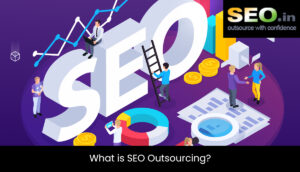 SEO can be done by a hired agency to whom you outsource SEO. SEO outsourcing refers to outsourcing search engine optimization services such as on-page and off-page optimization to a third-party specialist SEO firm. The SEO firm will assist you in growing your business and providing reliable services.
Benefits of SEO Outsourcing
There are many reasons you outsource your SEO tasks; here are a few to give you a brief idea.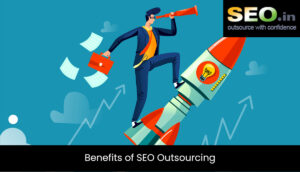 Outsourcing will mitigate you from the tedious process of doing it yourself and provide you with expert-level services in sync with recent trends and frequent algorithm changes.
You will not only enjoy professional-level services, but you will also save costs from maintaining an in-house team that will lead you to spend on bonuses, SEO Tools, software, and other miscellaneous costs.
What to consider while outsourcing?
Before you decide on how you want to approach the SEO of your website, here is a list of important things you should consider before outsourcing it to an SEO agency.
1.Cost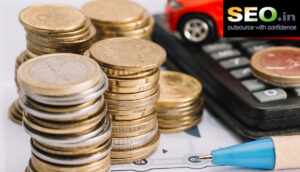 Investing in your business isn't cheap, and so is every marketing strategy and is SEO is one of them. The cost will play an important factor that will help you decide if you want to outsource your SEO or keep it in-house.
Costs for hiring an SEO Agency or a manager can hike up your expenses, and remember that SEO isn't a one-time investment. It requires persistent effort, resources, and patience to show results.
It narrows down to you and your flexibility towards spending on digital marketing; you can keep it in-house by hiring a rookie or investing in professionals. Hiring in-house can be cost prohibitive. The average SEO manager makes $72,808 a year. And this doesn't include cost to company for other executives who will work on the strategy outlined by the SEO manager. Outsourcing can be a comparatively cost effective option.
As said earlier, SEO shows results over a brief period unless your website, by luck, goes viral, you need to have patience. As the market gets more competitive, SEO can help be a good way to counter increasing competition.
2.Brand Identity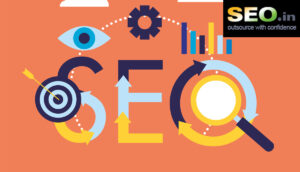 When you consider outsourcing SEO, you should always keep in mind that the people you are approaching don't have a complete idea of your brand. Unless they know your niche, goals, and brand identity, they won't execute the task assigned well.
Using SEO will help give your brand a better reach, and for that, you want to push forward correct, precise information about your company, its products, and the ideals it stands by.
Take the time to make sure the company you choose to partner with will be perfectly familiar with your brand. This will be a long process of asking questions, calls, attending meetings, and taking portfolio reviews, but don't leave any stone unturned.
A recent report has identified 51% of online traffic from organic searches, and SEO plays an important role. If you can efficiently plan out a strategy with your agency while they are through with your company goals, selling your brand on the online platform will benefit you in the long run.
3.Needs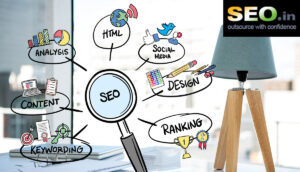 SEO houses various other parts under it, and before you consider outsourcing, you should be sure of which aspect or aspects of SEO you need for your company. This will help you find a place faster, mitigate unnecessary stress and reduce initial costs on unnecessary services.
You can only need one part of the software to be applied to your website at a time. Do you, for example, just need someone to write SEO-friendly content for your website? In this scenario, hiring a freelance writer to provide a small amount of content rather than going to an expensive digital company might be the better choice, or asking someone in-house who already has these skills to do it.
Suppose you need assistance with multiple aspects of optimization, such as content development, authority building, keyword analysis, and technical SEO. In that case, it is best to choose an organization that offers a comprehensive approach to SEO management. The first step toward an effective and systematic SEO plan is to ensure that your needs are met.
4.Goals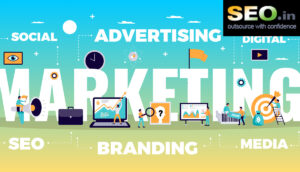 When it comes to outsourcing SEO, each organization has different objectives. Regardless of your interests, one goal remains the same: SEO rankings. Every SEO campaign has one aim in mind: to improve search engine rankings. As a result, your domain exposure will increase, and your online presence will improve.
However, if you have any other objectives in mind besides improving your SEO rankings, now is the time to discuss them with your chosen SEO India firm?
Your company's requirements are somewhat different from others; what is it that you want to accomplish? More likes, more traffic, or more customers? Before entering into any relationship, it is best to have a good understanding of the objectives. Measurable, precise, and achievable goals should be set. Talk to a digital marketing firm about the benefits of outsourcing your SEO so you can devise an effective strategy.
5.Your SEO Agency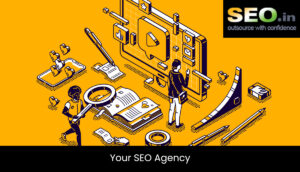 After knowing what you are exactly looking for, you must assess and analyze the company you're about to partner with. When you outsource SEO, you're putting your trust in the SEO company to deliver on what they've promised – results.
Trust plays a key factor; my research found a report that precisely constructs how businesses, especially during the pandemic, ran because of the institution of trust. Your chosen company might give you all the pretty and precise reports in the world, but if they don't provide you with concrete objectives and results, your money will get wasted.
The fact that so much money and energy has been wasted because of spammy agencies exploiting small businesses is the prime reason why so many business owners are dismissive of SEO services. However, it is possible to find an agency to outsource SEO that is enthusiastic, trustworthy, and willing to learn about your business.
6.Communication Needs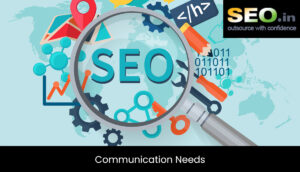 If you are confused about whether you should opt for outsourcing SEO services or keep it in-house, use your communication requirements to decide.
There is often small or major stuff that can go wrong with your website SEO because of all the complicated interweaving variables. When one of these issues occurs, you must address it as soon as possible to avoid losing website traffic and, as a result, losing sales.
In-house working helps you communicate the work better and faster, tedious and time-consuming with a reputed agency.
7.Importance of SEO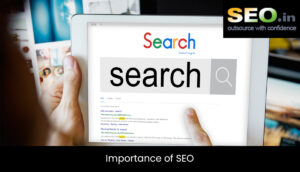 Technical, material, and backlinks are the three main components of SEO.
Technical- coding and optimization, website layout, and keyword integration.
Content- high-quality, exclusive, and appropriate-length content that is correctly related to the search terms.
Backlinks- the number of other websites that connect back to your site.
Experts would be required to manage these three criteria to rank a website. To build your website structure, you'll need proper coding, high-quality, unique content, and various other website links to communicate with.
Some businesses can prioritize technical significance and devote a significant amount of time and effort to optimizing the website's technical aspects. Still, although the technical side of things is critical, it can only lead to ultimate success if the content is of high quality and if other websites recognize it.
Otherwise, you might get visitors to your website, but they are unlikely to stay or suggest your work to others. If you outsource or work on SEO in-house, the amount of time and effort you put into each of these variables will determine how effective your SEO campaign is.
When should you consider outsourcing?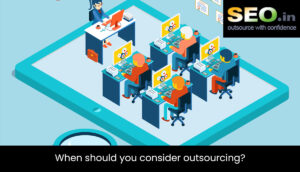 As said earlier, you might need an SEO India expert for a single task or to cover a plethora of tasks.
It is always best to outsource when the task in hand requires a team of professionals; for example, you require more than three aspects of SEO. I suggest outsourcing your SEO work to an external firm if you are a smaller, more agile business with a minimal budget.
If you have a big organization and can afford to add to your marketing team, an in-house SEO team might be worth considering. Adding an SEO expert to the marketing team means having someone in the workplace who can execute plans tailored to the company's needs.
However, the final decision rests in you; depending on your requirements, keeping your necessities, and the benefits of outsourcing in mind, you should make a choice.
Tips on Outsourcing
Find a credible, dependable, and trustworthy firm to work with.
Consider the whole marketing strategy, not just SEO.
Set observable and achievable objectives.
Develop and agree on a coherent plan.
With monthly meetings, you can keep track of your success.
In conclusion
For any company, deciding between in-house and outsource SEO is critical. Your budget, company structure, and willingness to facilitate a team of SEO experts would be the most important determining factors.
In today's online business environment, incorporating effective SEO software into your website is critical.
It's a competitive market, so think about all of your choices before recruiting a new company or choosing to do everything yourself. It is best to make wise decisions, as this will benefit both you and your business!