---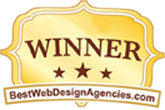 CONSISTENTLY RANKED AS A TOP 3 AGENCY
What is Ecommerce Design?
SEO.IN's ecommerce design services provide a custom design for your online ecommerce platform. Our design team will create an effective and welcoming design for your new and existing customers based on the traditions of your industry, the message you wish to convey to your visitors, and the branding and aesthetic visions of your company. We create both front and back end designs to assist with increasing the visibility and usability of your website for both your customers and your team and design your website with online marketing in mind.
How does Ecommerce Design differ from traditional design?
Ecommerce design principles differ greatly from those of traditional web design principles. Ecommerce design is focused on your product and service offerings and ease of access while traditional design concepts idealize content and a displayed message. It is important that your website creates a positive impression on your visitors and is easy to navigate, allowing them to quickly find what they are looking for. We design with ecommerce platforms in mind; we understand that ecommerce platforms are much different compared to traditional websites and therefore we create a design that highlights important sections for your customers.
General Features
We create an original design concept specifically for your company based on the input we receive from your internal team. We spend time performing research to better understand your industry, the dynamics of the products and services offered through your ecommerce website, and your branding and marketing initiatives to match them in your concept design. Our ecommerce design strategy involves implementing security strategies using secure SSL and HTTPS, automation techniques for sales notifications, and other various features essential to a successful online ecommerce platform.
Premium Solution
Our team of professional designers can create effective designs that leave a good impression upon your visitors with awe inspiring graphics and attention to detail. We utilize professional stock photography by established photographers and quality graphical artists to ensure a strong visual appeal for your visitors. We integrate our quality design aesthetics into your front and back ends, ensuring that your team will be able to efficiently manage the website through an easy-to-access administrative panel. We also integrate important features ranging from on-site search to tax and shipping calculators.