Things To Look Out For When Outsourcing Digital Marketing In India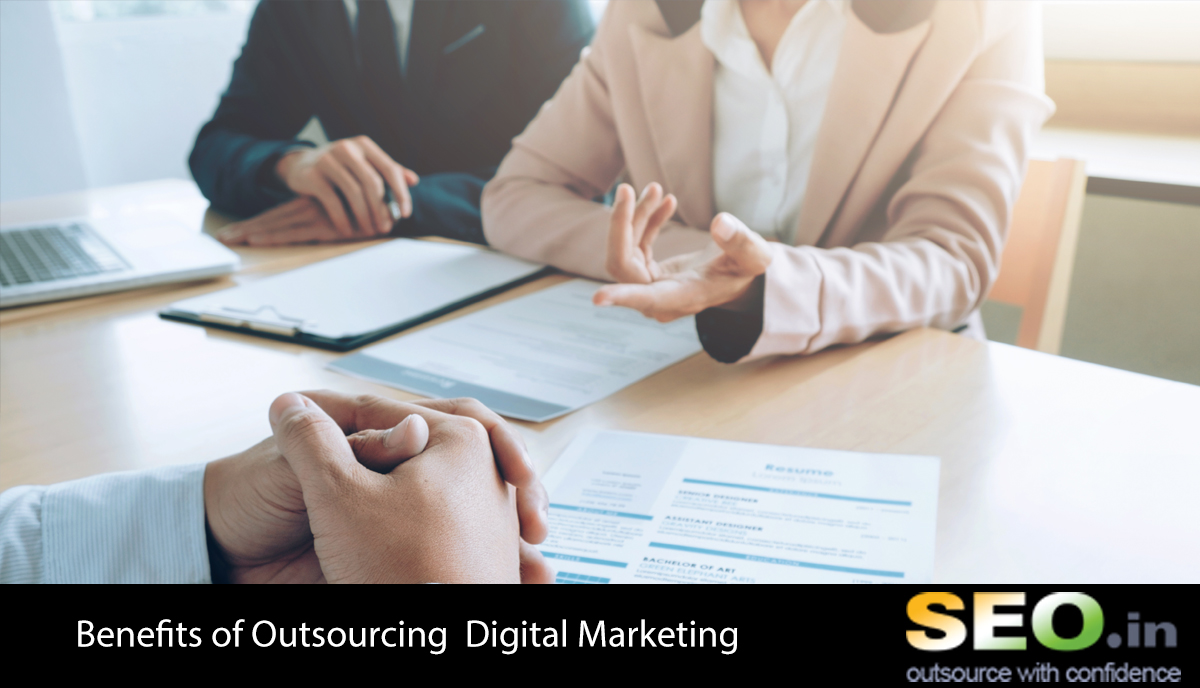 ---
Table Of Contents
Things To Look Out For When Outsourcing Digital Marketing In India
Introduction
What is Digital Marketing?
Outsourcing Digital Marketing
Benefits of Outsourcing Digital Marketing
Cost Effective Investment
Expert Execution
Effective Campaigns
When Should You Outsource Digital Marketing?
How Would Your Business Grow By Outsourcing Digital Marketing To India?
Decreased And Streamlined Expenses
Resolution Of Capacity Issues
Enhanced Focus On The Core Competencies
Improved Quality Of Service
Get Service From Talented Professionals
Get Better Return On Investment
How To Determine That You Appoint The Best Digital Marketing Services?
Industry Experience
Agency Size
Quality Of Delivered Work
Knowledge Of Latest Technology
Effective Reporting
Pricing Policy
Details of the Contract
Conclusion
Introduction
The Internet has brought an era of convenience. Today, time and Location are no longer constraints anymore for reaching out to anyone. This has brought an opportunity like never before to businesses.
The way businesses and brands have put technology to use has undergone a sea change in the last decade. Every day, more and more people choose digital devices over brick-and-mortar stores to make purchases or avail services. This has made an important impact on businesses and their interaction with consumers. They now have the precious opportunity to tap into the global pool of consumers from anywhere.
What is Digital Marketing?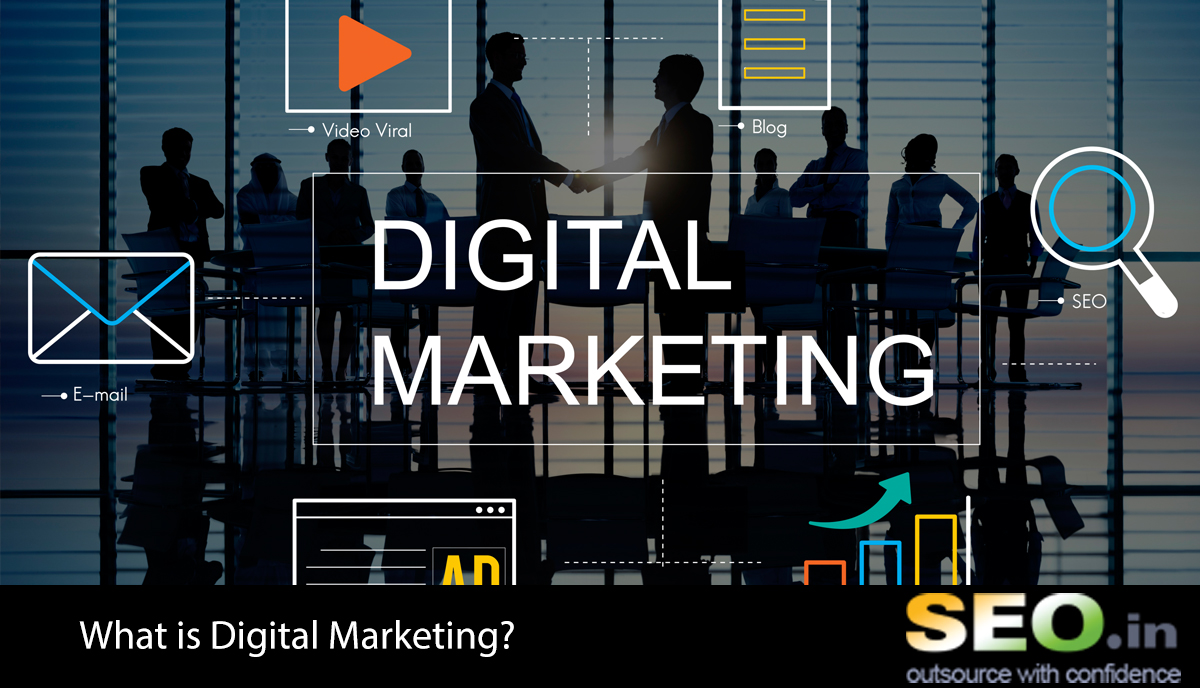 Digital marketing or internet marketing is the stream of marketing that utilizes the Internet, the various internet-based devices and platforms to advertise products and services. Businesses target the customer base they want to reach out to and build their marketing strategy focussing on the search pattern of the users. Digital marketing is an entirely new way of communicating with customers and increasing sales.
Outsourcing Digital Marketing
To put it most simply, outsourcing digital marketing is the modern way of appointing an advertising agency to market your products or services in the digital world. However, the work has a lot more nuances in it as digital marketing has so many aspects. Depending upon the needs of the business, outsourced tasks can include one, few, or all of the following:
Creation and Execution Of Digital Marketing Strategy.
Setting Up Advertising Campaigns
Managing Affiliate or Loyalty Programs.
Designing Ads.
Managing Pay Per Click Campaigns
Producing Podcasts.
Creating Social Media Posts.
Writing Articles And Blogs.
Producing Engaging Video Content.
Creation Of Lead Magnets.
Blog Management.
Creating Facebook Ads.
Managing Seo.
Managing Ad Campaigns and more.
Maintaining Customer Communications.
Reviewing Analytics and more..
Often marketing agencies or freelancers are hired to perform these tasks. This means that you are entrusting the responsibility of generating business via digital marketing to someone who is capable of achieving the results you are looking for.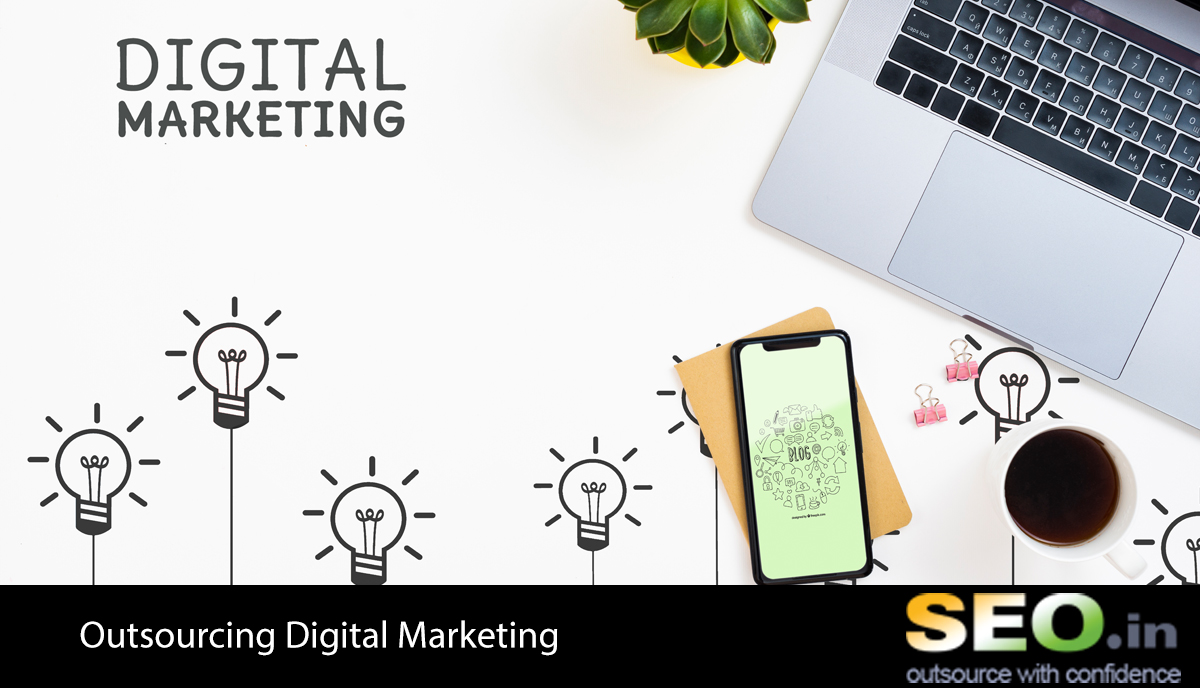 You might want to perform the tasks yourself or appoint your employees to do them. Yet, with rapidly changing algorithms and the latest technology being updated every day, it is a wise decision to appoint someone who is already familiar with the ever-growing digital landscape.
When you outsource digital marketing, you are entrusting the professional digital marketers, who have the knowledge of all the latest technology, software, and techniques, to run unique result-oriented campaigns to achieve the marketing goals of your business.
Benefits of Outsourcing Digital Marketing
Digital marketing strategies can be created and implemented for any marketing budget. Digital marketing is an affordable way to keep driving business growth while making sure that the right audience on the appropriate platforms at the right time is being reached. Some more benefits of outsourcing Digital Marketing are:
Cost-Effective Investment
When you outsource your digital marketing to a digital marketing agency, it can save you the costs and efforts of hiring a full-time digital marketing or social media manager, copywriter, graphic designer, etc. This will free up your budget to spend on other business activities.
Expert Execution
The digital marketing team will create a unique marketing campaign tailored to suit your business goals. They will consider your customer base and offerings. These professionals are adept at engaging customers by creating communication that gives your business an edge over your competitors.
Effective Campaigns
Digital marketing professionals provide analytics-driven insights and marketing data that are useful in delivering great results. They recognize which avenues will work best for your business and effectively tap the customer base available.
When Should You Outsource Digital Marketing?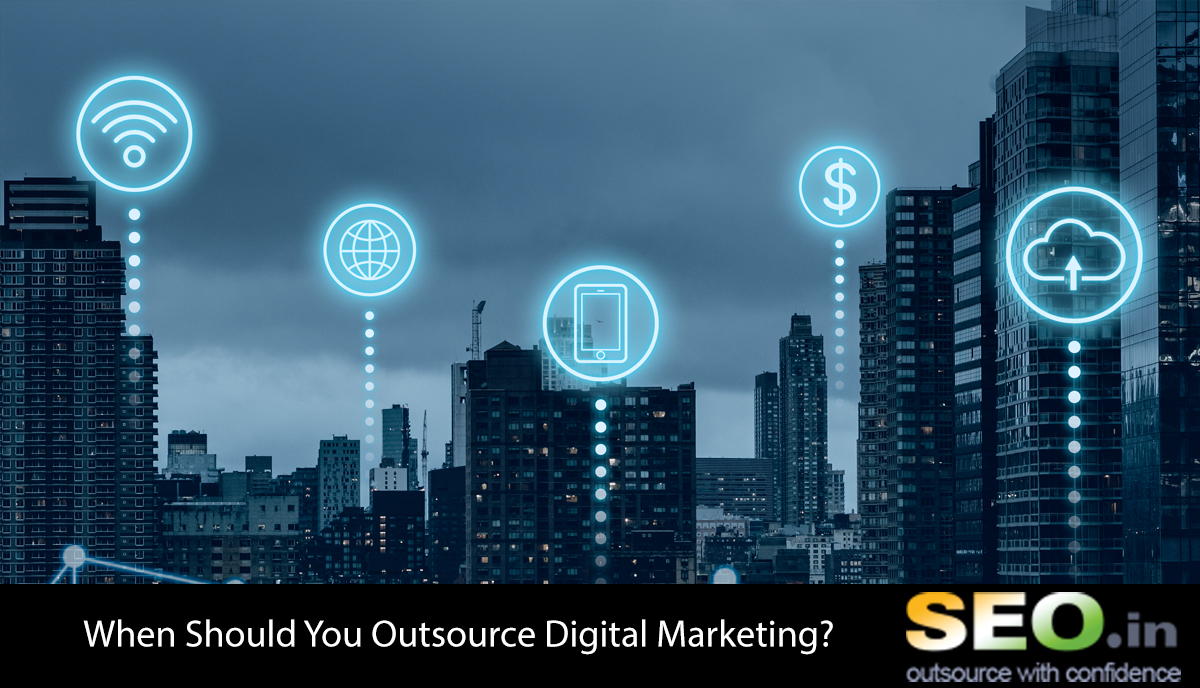 Outsourcing your digital marketing will allow you to use your resources efficiently. If you are looking at driving more business growth in less time, outsourcing your digital marketing will support you. A major aspect of your business will get automated.
Appointing an agency or freelance digital marketer can be a game-changer in your business. Take a look at if you can and want to improve your digital marketing and revenue generated by outsourcing digital marketing to industry experts skilled at work.
How Would Your Business Grow By Outsourcing Digital Marketing To India?
With the largest pool of talented resources available, outsourcing Digital Marketing to India is not just cost-effective; it brings a host of other advantages with it. A.T. Kearney Global Services Location Index of 2019 and Tholons Top 50 Digital Nations confirmed that India is the leading country for outsourcing.
Business owners worldwide prefer outsourcing their digital marketing to India as it provides top-class human resources, the latest technology, and 24/7 services. Here are the details of the advantages of outsourcing digital marketing to India.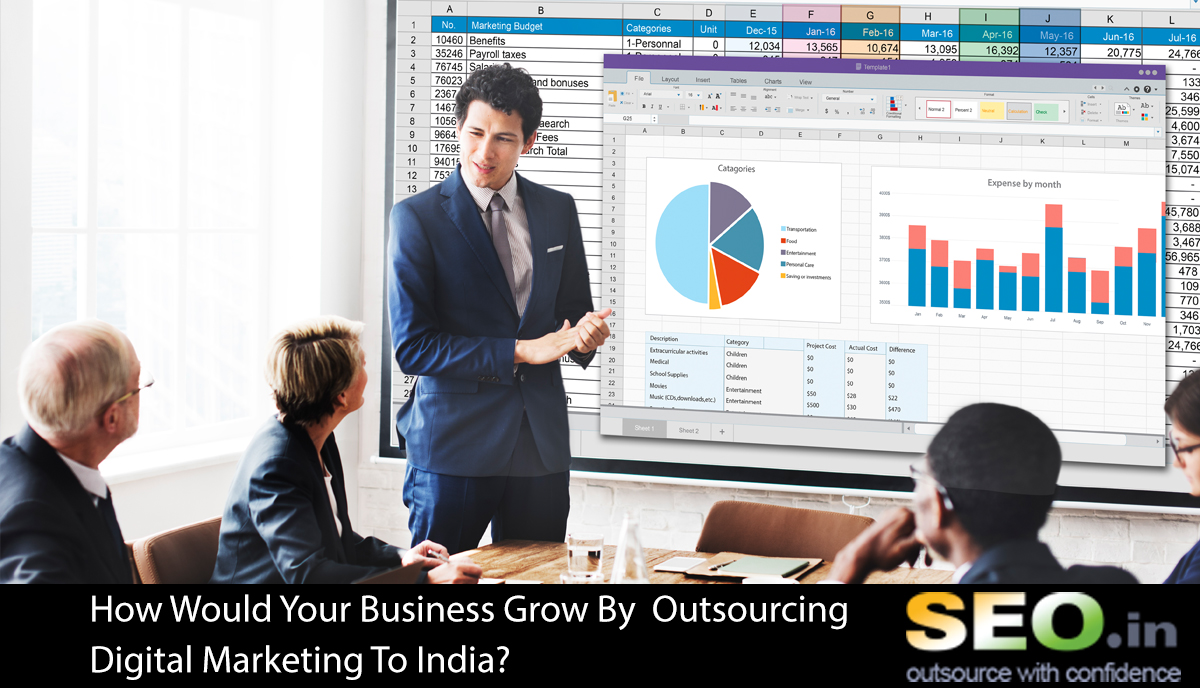 Decreased And Streamlined Expenses
Though you will need to pay fees in exchange for the digital marketing services, you will be able to cut down the rising costs of maintaining an in-house team of digital marketing professionals. You will save yourself from all the overhead expenses and employee salaries that you will incur when you have an in-house team. 59% of the companies outsource their digital marketing to India to cut back the expenses of hiring a full-time digital marketing team.
Resolution Of Capacity Issues
Being the second most densely populated country, India is filled with expert individuals talented in multiple fields. The companies that outsource their digital marketing needs to India include all sorts of companies- from SMEs to large corporations that are included in the Forbes 500.
Moreover, getting an in-house digital marketing team can be costlier than outsourcing the work to India. This means, by outsourcing, you get better service at a low cost and, of course, raised revenue. You can get the amount of service that suits you and choose a contract in your favor. Your fixed expenses are considerably reduced in this way, and the margin is increased. The capacity issues 47% of businesses get resolved by outsourcing their digital marketing needs to India.
Enhanced Focus On The Core Competencies
There are several segments of digital marketing, such as PPC, SMO, SEO, SMM, ORM, etc., which have their own advantages. You might need to employ all of these aspects to boost your revenue growth through digital marketing. These jobs demand a lot of time and skilled expertise. Outsourcing digital marketing would create a win-win situation by letting the experts work on delivering aimed results while you continue focusing on growing your business.
57% of companies outsource their digital marketing to India to increase their efficiency and concentrate on the core competencies of their business. This eventually brings more revenue and business growth.
Improved Quality Of Service
Digital marketing agencies in India have substantial experience in creating and delivering results-driven, effective marketing campaigns for clients across the globe in different industry verticals. They employ proven methodologies that suit the unique needs of every project.
They are equipped with the latest technologies and tools that make sure that optimum efficiency and maximum quality are delivered. They examine each aspect of the project before delivering and make certain that the quality of work they deliver is of top quality.
Get Service From Talented Professionals
In-house digital marketing employees would mean that you have access to a limited pool of skilled individuals. However, outsourcing will let you select the best digital marketers in the business. Talented Indian professionals are well versed with the constantly changing landscape of digital marketing. They are up-to-date with the latest updates, digital marketing trends, algorithms, technologies, softwares, and other tools. They will be able to assist you with the best approach to grow your business. 28% of the business outsource their digital marketing in order to have access to talented digital marketing professionals.
Get Better Return On Investment
The Digital marketing professionals in India have extensive experience in working for a varied range of businesses from a variety of industries. A team of experts will come together to offer you the best approach to make your business grow and also devise a digital marketing strategy that would specifically target your potential clientele. You can rest assured that the digital marketing services will give you a better return on investment.
How To Determine That You Appoint The Best Digital Marketing Services?
Choosing the right digital marketing partner while you outsource the services is important. Not all agencies or freelancers will have the same experience and caliber. In a crowd of service providers advertising that they are the best, how would you choose an outsourcing partner that will help you scale up your business?
Here are the factors you need to consider before you enter into a contract with a Digital Marketing Agency from India.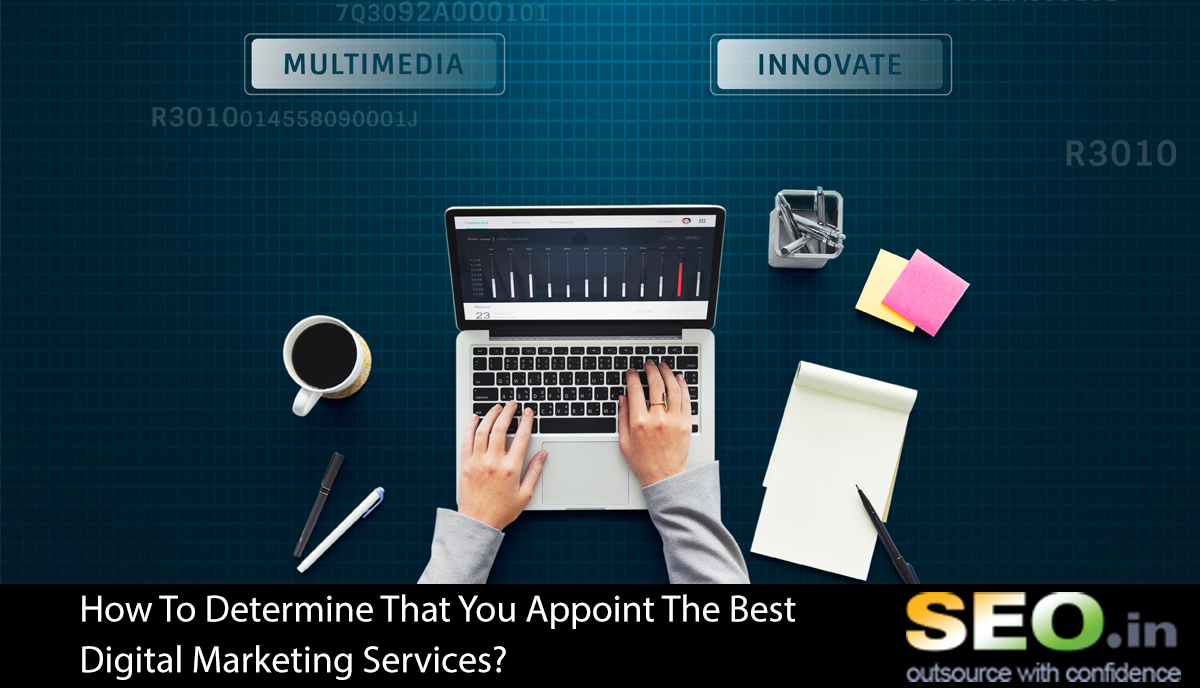 Industry Experience
It is a given that someone who has been in business for a longer time will be able to serve you better. Therefore, this is the first factor that you should consider. You should ask them if they have handled work on any project that is identical to yours. Their team must be well versed with the work and will help you with successful campaigns that target your potential customers.
Additionally, check their customer reviews on the internet and ask for testimonials from their clients. This will give you an understanding of their work ethics and the quality of their deliverables.
Agency Size
Digital marketing agencies can be one person running a business or a team of 5 to 300 employees. The size of their team should match your business needs. A smaller team might be more accessible for you, whereas a larger agency will have access to a wider talent pool. Consider your budget framework and your business needs while you make this decision.
Quality Of Delivered Work
Ask for their work samples to get an understanding of their quality of work. An experienced agency should be able to provide you with metrics of the results they have achieved in the same field. You can also ask for a working demo that suits your needs to ascertain the quality of work. You should ask questions about metric tracking, goals, and establishing benchmarks of successful campaigns.
Knowledge Of Latest Technology
You must opt for the agencies that use the right tools to optimize and monitor your campaigns. Check if the digital marketing agency is updated with the current technology so they will be able to run campaigns and deliver results efficiently.
Effective Reporting
The marketing campaigns need to be tracked, analyzed, and measured. Generally, a good agency will provide you with a thorough report for the campaigns like conversion rates, no. of visitors to the websites, etc. Have a clear conversation about how often you will receive these reports and the metrics you will be provided with.
Pricing Policy
Before you finalize your outsourcing partner, get an idea of the average pricing in the industry. If your outsourcing partner in India offers any packages, have a clear understanding of them and see if they suit your needs. You must remember that an agency with fair pricing will not just cut back your expenses but give you better ROI.
Details of the Contract
Before you finalize the contract with the digital marketing agency, carefully review it and suggest alterations if you need them. Keep an eye for unclear definitions of services, vague terms or hidden costs, as well as terms of cancellation and modifications.
Conclusion
Deloitte's Global Outsourcing survey reports that the spending on outsourced services has almost doubled in the last decade. Around 78% of companies around the globe feel great about outsourcing digital marketing to India.
Indian Digital Market Service providers will add the best value to your business with their proven methodologies, vast talent resources, and a result-driven approach. The best digital market agencies will guarantee you the best results through testing, innovation, and effective positioning of your campaign.