Why Outsourcing Your SEO Projects To An SEO Agency In India Is a Smart Business Move?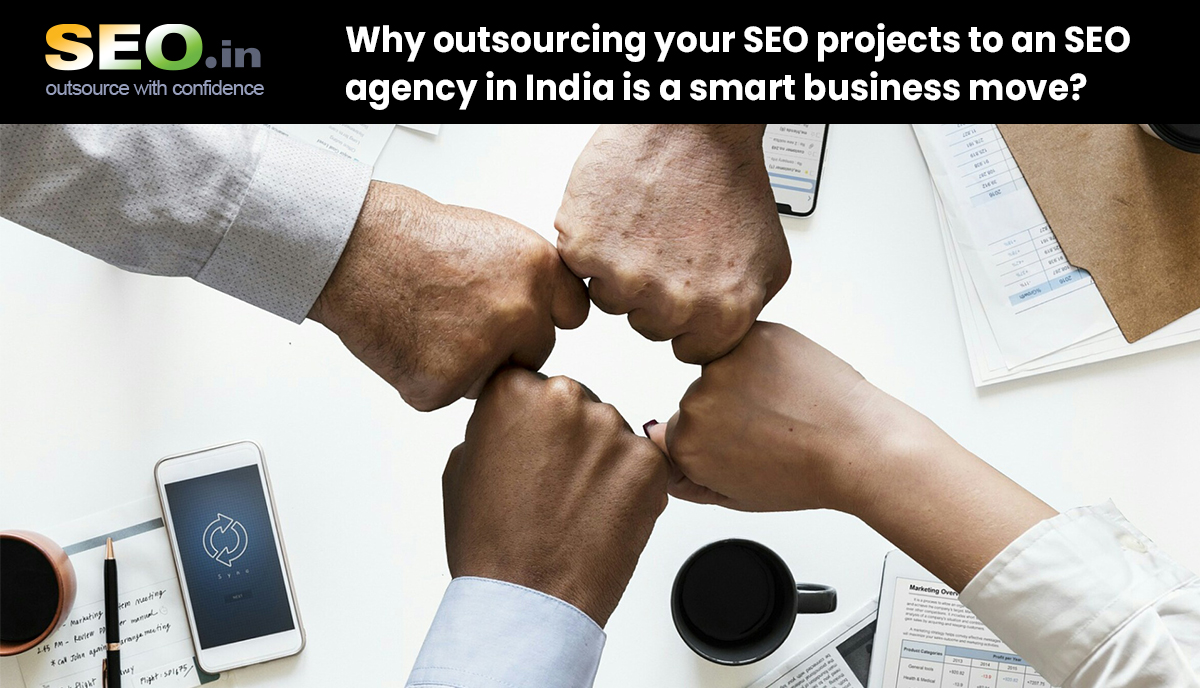 ---
If you drive revenues from your site or want to target the growing digital users, it is most likely the case that you've been trying to master Search Engine Optimisation (SEO). Research shows that the first few Google desktop search results get around 32% of an average CTR, and Google mobile search results get around 27% of an average CTR.
Imagine if SEO lands your site on this coveted position in the search results page? You can expect a tremendous boost in business visibility and customer acquisition objectives. These USPs give you an insight into the importance of having an SEO optimised website.
Why outsource SEO services to an expert?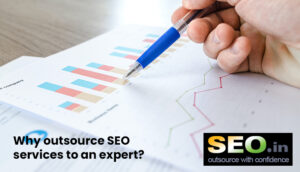 The harsh reality is that SEO is not that easy to master. If you don't have a tight grasp on how SEO works, there are chances that you won't be able to lift off your website from the ground. When you give your work to an outsource SEO service provider, they ensure that your website ranks higher by using some strategies and certain keywords.
New websites and startups benefit greatly with the help of an outsource SEO. At the same time, existing websites and companies struggling to get higher ranks can overcome their mountain by hiring professionals who can help them get good results.
If you're having doubts about whether it is really necessary to get an outsource SEO service team or is an in-house SEO team enough to meet your needs. Then this article has the perfect answer for all your queries. This article will focus on the benefits as to why as a startup or an existing business, you should consider outsource SEO service experts to get higher ranking results.
Benefits of outsourcing your SEO needs to outsource SEO service experts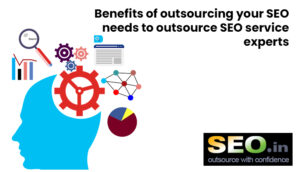 You could give your in-house team more additional workload of SEO and expect a decent return, or you could start by getting your job done by an outsource SEO service expert. When you give the task to your in-house team, you may be able to keep your website from falling for some time, but what about the long run? For this, you could get guidance from an experienced and professional team. Check out these ten major advantages of getting your SEO needs to be handled by an outsource SEO service team.
1- The experts know the best strategy for your success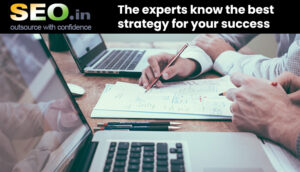 SEO is a vast and complex item that an inexperienced or a team that has other work to look out for cannot be handled. It could take years for someone to master SEO, and instead of wasting your team's time and efforts on something they are not designated to do, it is advised to hire a professional who can get the job done.
Around 45% of Google search result end up with the customer clicking on the organic clicks. This is because the SEO team of the websites showing up on the search engine did a phenomenal job of optimising the website for getting higher ranks. Similarly, 50% of the search results ended with zero clicks on the search engine. This is because the user did not find the results appropriate to their needs.
The websites shown in the first 45% of searches used the correct strategy to optimise their SEO needs. This can solely be managed by experts who know what the requirements of the clients are. They have performed a precise breakdown of the competitors and have come up with ideas and strategies that have helped them get the desired results of showing up on the search engine.
2- They help you reach your target audience in your location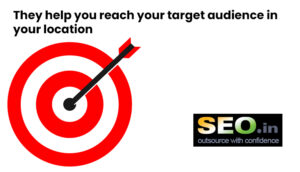 When it comes to services, people prefer services they could get nearby to their location. With the digital age, they do not prefer travelling a long distance for some services. Google shows that nearly 1 in 3 searches are related to the service's location. In that, around 76% of people visit the businesses within a day searching for their services.
This statistic indicates that the website should target the nearby clients and the nearby clients are more likely to get help from their business. Also, when you make an impact in the online world, more people tend to notice your business and will be more likely to check out the services you're offering.
With the proper optimisation, you can gain new clients and customers locally who will recommend you to others. Also, the outsource SEO service professionals will fix any major errors that were previously made by the team or other SEO services. You can get a clean start and create your website with zero errors generating organic leads. The SEO team will add proper communication tools wherever necessary. This will help the clients to contact your business directly.
3- They make proper use of the analytics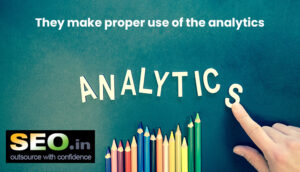 Before starting any business or SEO work, it is important to analyse what the competitors are up to and new trends in the market. The outsource SEO service team will use all the analytics tools at their disposal. If the analytics are not used properly, and or if you fail to do the necessary analytics, the work done can be steered in the wrong direction, and the client will not benefit from the result.
The analytics can help you decide how the clients behave and make the client stay on your website for longer periods. For example, an average customer spends around 13 minutes and 45 seconds reading the product reviews before determining whether to look for another product or purchase it.
The outsource SEO service team can use such analytics in their favour by optimising the website and make the clients stay longer on the website. The longer a customer stays on your website, the higher your website rank in Google's algorithm. The algorithm will direct more clients to your website, and you can benefit from the organic traffic you're getting.
4- Saves your time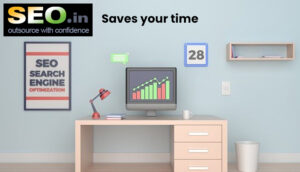 One luxury that most business people cannot afford is the luxury of time. If you're busy dealing with one aspect of a website, then the other aspects will be neglected, leading to a downfall of your entire business. It is not an easy job doing all the research, understanding the analytics and the upkeep needed to become an SEO master.
When you hire an SEO professional team, they have all the necessary tools at their disposal required to ensure that your marketing campaign is running smoothly practically 24/7. Keyword research, optimised meta-descriptions, content optimisation, marketing campaigns, monitoring the SEO optimisation all require time and effort.
If you're not a professional, it gets difficult to understand these terms and becomes difficult to cope with the current trends. You can learn by taking up courses and classes, but it will be a waste of time if you're not interested in pursuing it full-time. Also, with your busy schedule, you may not find the time to get yourself familiar with the work. Therefore hiring a professional team is the smart move that can help you save time.
5- Hiring an outsource SEO service team is economical and budget-friendly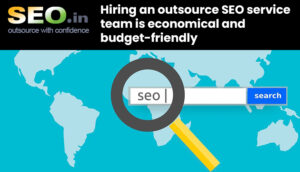 When the in-house team is concerned, it takes a huge chunk of money to ensure that the in-house team has all the resources at their disposal. Their salaries, the cost of the software, and the infrastructure needed for the professionals cost a lot more than getting your world done by an outsource SEO service team.
The money saved can be used to develop the business by hiring more staff or increasing the size of the business. The Return of Investment (ROI) of a website using an outsource SEO service team is impossible to ignore. When it comes to ROI, around 32% of businesses have reported that SEO services offer the highest ROI, whereas 41% of businesses reported that SEO offers medium ROI.
This clearly shows that by hiring an SEO service, you increase your chances of increasing your revenue. A strategy established by the outsource SEO service professionals will help you gain more revenue than any other forms such as PPC, paid clicks or ads etc. This also helps maintain an image of the brand and the loyalty the customers have towards the business.
6- They have experience by handling different brands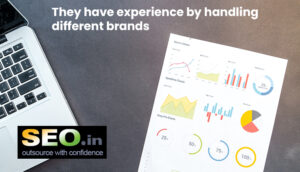 Often, new business organisations learn some DIY tricks and avoid any outsource SEO service to save a little money. This results in the business organisations wasting their time and resources and still not getting the desired results. Most people go with their in-house team and consider there is no need to outsource SEO service to do the job for them.
Sometimes it works in their favour, whereas the results are not up to the mark in most cases. The SEO team has a huge team of professionals who have done their work for numerous brands. The experience the professionals gained from their previous works can help you increase the value of your business.
A dedicated outsource SEO service team will be up-to-date with the current trends and the releases. They monitor your website for any faults, traffic losses, loss in your ranking or other issues and think of solutions to fix the problem. The team has access to all the latest software and has knowledge of all the industry-related platforms and uses them to their full extent to better your brand image.
7- They ensure that your website is safe and secure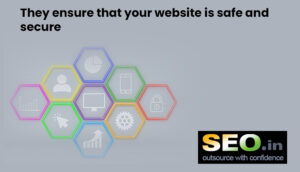 If you're new to SEO, you might not be aware of the threats that professionals face when optimising the website. Threats such as search penalties, spam, hacking and malware are common on the internet. And anyone without a secure website can be attacked by malware.
The SEO team knows about the threats and is always looking for any negative consequences or actions that will harm the website's ranking. Getting help from an outsource SEO service expert is the best choice but be careful while selecting the SEO service. Look out for services that offer the ultimate protection or any promise that sounds too good to be true. Do not believe everything the service tells you about safety.
Consult numerous services before deciding the best choice for you. A dedicated outsource SEO service professional will always monitor Google Search Console, Webmaster Tools, Google Analytics for any unusual behaviour. You can only protect yourself if you have any idea of protecting the website from harmful attacks, black-hat attacks, bad backlinks or any security vulnerabilities. Since they are experienced, they are prepared for anything and can also take steps to save your business from any negative publicity.
8- Help you reach your goal by increasing your revenue and sales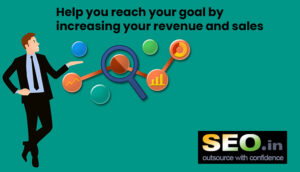 When it comes to earning revenue from your website, you get a great deal of money from the sales happening on your website. These sales can be in the form of an e-commerce website selling their items or a website doing affiliate marketing to increase traffic visits and get additional income.
A study conducted by Bright Edge estimated that around 40% of revenue generated online has been through the proper use of search engines. Out of the 40%, around 14% of the revenue earned is because of SEO. This figure is eight times higher than the revenue earned through other marketing strategies. This value can only increase if you come up in the search engine's first five or six results.
This estimate is enough to help businesses understand that you cannot ignore SEO, and one must get help from an outsource SEO team to get the desired results. A huge increase in the number of sales sends an important message that the methods taken by the SEO team cannot be wrong. It may take some time to reflect on your website's data, but the result cannot be ignored.
9- You get a fresh new perspective that can help you make changes to your business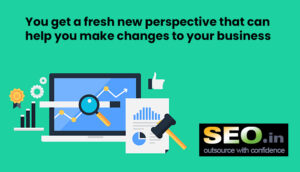 When you ask a colleague of yours an opinion about something, they might answer the same as yours. This is because the people in the same surrounding tend to pick up some behaviours, habits or manners of those around them. This can help you personally, but you need to have a new perspective of things to help you find a solution to professional matters.
The outsource SEO service team gives you a new perspective as they are not in touch with you. You can use their new ideas to kick off your marketing campaign. Even if you do not like the idea, you can also club some of their ideas and yours to get the job done. New people bring exciting opportunities and a new way to look at the problem that needs attention.
Your in-house team or other employees may find it difficult to develop new ideas because they are restricted to the same work environment. Whereas an outsource, SEO team has dealt with different businesses in different niches.
10- You get a consistent service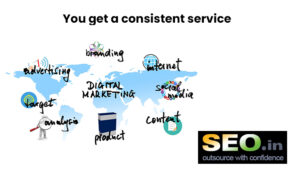 Once you're ranked higher on the search engine, it doesn't mean that the job of the SEO team is finished. With new updates and releases of the search engine, the algorithm also undergoes few changes. The SEO team should be updated with the new releases, or your efforts of staying on top of the search engine will be all in waste.
The SEO team needs to be monitoring the situation daily or every week. This means that the dedicated team needs to control the SEO needs, and the other team members should focus on their work. This way, you can see the consistency of the work and be assured that your website is in capable hands.
Giving the task of handling all the SEO work into the hands of the in-house team might result in you never having the online success you wanted since they might not be experienced with how the tools of SEO work. When the outsource SEO service experts take over, the guarantee that they will provide you with the best services for a long time ensures that your website is in safe hands.
Final thoughts on hiring outsource SEO service professionals
Because of these reasons, most companies prefer to outsource SEO teams and their services. They help the brand create a new fresh brand image for themselves and help the brand create an online presence as per the brand's perspective.
The SEO team can handle all your needs from website designing and development of content creation and marketing. The team can help you get through the obstacles of online earning and help you succeed in your business venture.